Contact Details

First United Presbyterian Church of Bellefontaine
117 N. Main St.
Bellefontaine, OH 43311

Mailing address
PO Box 579
Bellefontaine, OH 43311

Phone - 937.592.6611

Worship Schedule

Sunday School 9:30 am
Sunday Worship 10:45 AM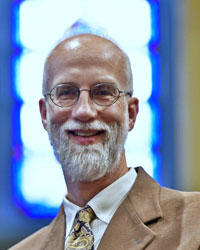 Our Pastor - Rev. Kenneth M. Locke
Rev. Kenneth M. Locke was born in Hong Kong, but he was largely raised in Texas and Arkansas. Over the years he has worked as a freight agent, soldier, short-order cook, and as a laborer in a handcrafted tile factory. Ordained as a Presbyterian Minister of Word and Sacrament (Teaching Elder) in 1997, he served two churches as their installed pastor. The first was a rural congregation in northwestern Indiana. The second was a historic, urban congregation in the heart of Nashville, Tennessee. Several years ago, God put it on Ken's heart to transition from installed ministry to interim ministry. After receiving the necessary training, he began work as a full-time, professional interim pastor. We are his third interim congregation.
Ken says he enjoys interim ministry because, on the one hand, he gets to do all the things he enjoys about installed ministry: preaching, teaching, visiting his congregation, and being a part of their life and ministry. On the other hand, he also gets to observe and analyze his congregation as they prayerfully discern their identity and the skills their next pastor will need so that they can live out their life and ministry as God would have them do. He especially enjoys looking at congregations from a Family Systems perspective and helping them discern their generational patterns of behavior. Rev. Locke holds degrees from Ouachita Baptist University (BA, English), the University of North Carolina at Chapel Hill (MA, English), and Princeton Theological Seminary (MDiv). He is a Fellow of the Joe R. Engle Institute of Preaching at PTS and has completed studies in congregational dynamics and Systems Theory at the Alban Institute and the Lombard Mennonite Peace Center. His academic interests are Late Antiquity and the Early Medieval Church.
In his spare time Ken enjoys running, hiking, reading widely, and cooking. He is married to Elizabeth Lindsey, who keeps the home fires burning in their house in Indianapolis. They have one basset hound, Charlie.
Contact details:
Email: ken@bellefontainepres.com
Phone: 937.592.6611 ext. 211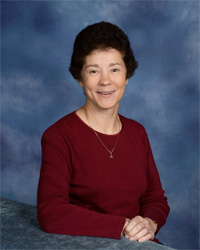 Our Christian Education Director - Anne Brienza
Anne Brienza, a life-long Presbyterian, is originally from Caldwell (Southeastern OH). A graduate of Bowling Green State University with dual degrees in Outdoor Recreation and Biology Education, Anne moved to Bellefontaine as the Outdoor Education Director for YMCA Camp Willson in 1984. In 1989 she became the Executive Director of Camp Willson and will continue working for the YMCA until January of 2013, when she retires. Anne joined 1st UPC in 1997 and is an Elder of the church. She has served on the Stewardship and Finance Ministry Team, and Evangelism and Congregational Care Ministry Team. She is currently on the Worship and Congregational Life Ministry Team and the Endowment Committee. In addition, she has been a choir member and member of the Koininia Sunday School class. Anne looks forward to returning to her roots in working directly with children and youth of all ages; helping to guide them to adulthood and a closer relationship with God. Anne will be a part time volunteer until her retirement, and will then join 1st UPC as the full time Director of Christian Education and Youth Ministry.
Contact details:
Email: anne@bellefontainepres.com
Phone: 937.592.6611 ext. 212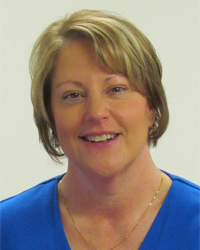 Our Secretary - Julie McCarthy
Julie has been here at the church since 1999. As the secretary she is the front line of the ministry of our church. In addition to working with our congregation, Julie and her husband Larry are members of 1st UPC.
Contact details:
Email: julie@bellefontainepres.com
Phone: 937.592.6611 ext. 210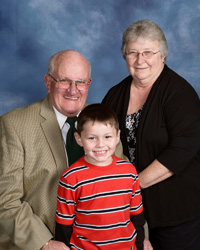 Our Custodian - Ralph Morrison
Ralph has been a member of the staff here at the church since 2002. Not only does he do everything to clean, fix, or make the church look nice, he also is a father and a grandfather, which takes up most of his free time.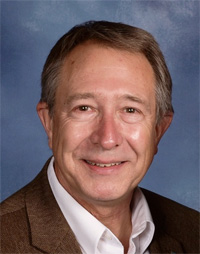 Our Chancel Choir Director - Bob Day
We are very blessed to have Bob Day as our director for our Chancel Choir.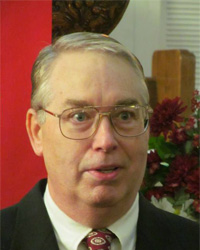 Our Organist - Thomas Boone
Since 1973 Thomas Boone has served as our Organist. But Organist does not give the man justice. His mastery of musical ability adds to the wonderful of our atmosphere here at First UPC.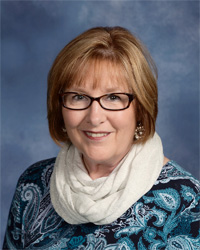 Our Handbell Choir Director - Cindy Jenkins
Cindy has returned to the role of Director which she held back in 1989/90 and remained as Director for 10 years until 2000. We are delighted to have Cindy back with the "ding-a-lings" and we look forward to their sharing God's praise during worship on the 3rd Sunday of each month.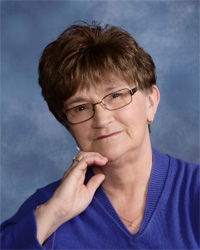 Our Parish Nurse - Phyllis Lyons
Phyllis will be doing blood pressure checks during the 1st Sunday Coffee hour each month.